Biografy
A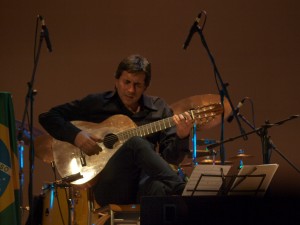 t age 12 began studying classical guitar, to which he added jazz, after seminars with Jim Hall, Joe Dorio and Pat Metheny, among others. In subsequent years, the artist began exploring in depth finger-picking, Brazilian and Flamenco traditions. Mirandola's focus is on developing original guitar techniques toward an expansion of the expressive possibilities of the instrument. He holds a degree in engineering from the University of Bologna in Italy, where he currently resides and teaches.
The artist's musical career started in 1974 with rock and fusion groups in his native Bologna. Later he played in Italy and toured Europe with jazz groups, for which he composed numerous pieces.
In 1991 he formed, with Guido Premuda, the "Acoustic Guitar Duo", proposing an original repertoire of compositions based on both nylon and metal string sounds. Along with numerous concerts in Italy and participation in acoustic guitar festivals, the duo produced the CD "Vagogirando" in 1997.
Since 1992 Mirandola has performed as a soloist as well, with original compositions and arrangements, incorporating elements of classical, jazz, flamenco, South American and ethnic music. Experimentation with new techniques has contributed to a varied repertoire with atmospheres ranging from sweet to rhythmic.
In 2003 the German label Acoustic Music Records released his CD "Oltre il Mare" (solo nylon string guitar).
In 2009 releases the Cd "My favorite tree" (solo metal string guitar).
In 2010 a new solo cd "Michael Jackson on Guitar", entirely dedicated to arrangements of songs by Michael Jackson.
Besides the activity as soloist currently he plays in:
"MiraDuo", duo with Elena Mirandola: violino (jazz, irlandese, sudamericana)
"Ten Strings" duo with Enrico Guerzoni (cello)
"Rinato Carosello" trio (Neapolitan music)
"Trio Fotogramma" , music for films
"Primero Canto" spanish music
"Microcosmos" jazz quintet
"Ethno-Jazz septet" (string quartet, guitar, drums, vocal)
"Miraggi duo", duo ethno-jazz  (piano e chitarra)
Discography:
CD "MiraDuo", 2022 Elena Mirandola: violino, Stefano Mirandola: chitarra (jazz, irlandese, sudamericana)
CD "Miraggi", 2014 (piano – guitar)
CD "Michael Jackson on Guitar", 2010 acoustic guitar covers from Michael Jackson's songs
CD "My favorite tree", 2009 (acoustic metal strings guitar)
CD "Ten Strings", 2005 (cello- guitar)
CD "Oltre il mare", 2003 (Acoustic Music Records) (acoustic nylon strings guitar)
CD "Vagogirando", '97 (acoustic guitar duo)